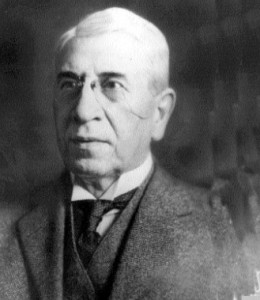 In 1887, an ambitious young man named Augustus G. Stouder came to Troy, Ohio, with $300 in his pocket. The young man turned his ambition into successful reality in 1904 as he became president of the Hobart Electric Manufacturing Company (later known as The Hobart Corporation and currently, PMI Food Equipment Group). He remained president until his death in 1929.
Known to everyone as Uncle Gus, Mr. Stouder was a grateful man, especially to the community which had given him the opportunity to make his fortune. He wanted to return the bounty in some way and shared his wish with a friend, John K. DeFrees, who was with The First National Bank & Trust Company.
Mr. DeFrees told Mr. Stouder about the concept of a "Foundation," or a trust fund that could benefit a community well into the future. Mr. DeFrees assisted Mr. Stouder by adapting the bylaws of an already existing foundation. A resolution creating The Troy Foundation was then adopted by the directors of The First National Bank & Trust Company on April 15, 1924.
The new foundation was ready to receive gifts and bequests "for educational, benevolent, religious or charitable use in accordance with a plan that shall meet the changing human and community needs." The rest is history. Mr. Stouder's original bequest of $151,640 was received in 1930. Through the years, his vision and philosophy of sharing has resulted in assets exceeding $82 million. The original dream of a grateful man has provided a steadily increasing source of funding to improve the quality of life for the community he loved.